Tuesday, July 24, 2012
Having never been to Paris, here's how I imagine all Parisian ladies spend their time: sipping tiny espressos and nibbling chocolate croissants at movie-perfect outdoor cafes, with baskets of fresh flowers and cheeses from the farmer's market at their feet (which are clad in little black Audrey Hepburn flats). Stereotype much? And of course, being me, I don't care as much about the croissants and flowers as I do about the chairs they are sitting in.
I've been longing for some outdoor chairs for two summers now, ever since we completed the backyard landscaping project and circular stone patio. We bought a sweet little round metal mesh table on clearance at a shop up in Spokane, but couldn't swing for a set of chairs. Right now we are using a set of hunter green plastic chairs from the Home Depot that are covered in white paint drippings (my brilliant idea to use them as sawhorses was a little short-sighted.)
The indoor seating situation is just as dire — we have four lovely dark wood, high-backed chairs that look great in the space. So what's the problem, you ask? Well, they don't belong to us. They've been on long-term loan from my brother and sister-in-law, who have been living in a tiny studio apartment for the last couple years saving for a house. Enter summer 2012, and they are now buying that house! Hooray! While I'm excited for them to be first time home owners, now the hunt is on to replace our borrowed chairs. Because as of next week, we will be sans-seats (nerdy typography joke hehehe).
My heart skipped a beat once, a few years ago, when I realized there was a name for a certain design style that I'd been gravitating toward — "French Industrial." It incorporates antique French factory pieces like stools, benches, and the like, sometimes repurposing them for new uses. In particular, I just simply adore the metal bistro chairs, most commonly referred to as "Tolix" chairs.
Since we eat outdoors as much as possible in the summer and then have to put the seating away in the garage come winter, my grand plan is to buy some chairs that can be used in both places… crazy? Crazy SMART I say. Double duty, half the price. Here's a round up of bistro-style chairs I think could fit the bill.
1. Tolix TM Cafe Chairs | Pottery Barn: Sturdy and on sale. Yes please.
2. Marais A Chair | Design Within Reach (um, hello - so NOT within reach, right?): My top choice if they weren't $250 each. Yikes.
3. Parisian Bistro Chair | Viva Terra: A Winning the Lottery Ticket purchase.
I wrote the majority of this post yesterday, and then I read this article by Portland blogger Katy Wolk-Stanley of The Non-Consumer Advocate, about her life as a follower of The Compact. I had never heard of this group before, and the idea of giving up buying anything new for a WHOLE YEAR intriques me. Utterly terrifies me, but intrigues me none-the-less. Give up my West Elm catalog obsession? Walk away from online Anthropologie orders? I'm giving it some thought. I'm going to take some time to mull it over. If I decide to take the plunge, perhaps the fates will reward me and reveal some sweet, undervalued, USED Tolix chairs like these at an estate sale this summer: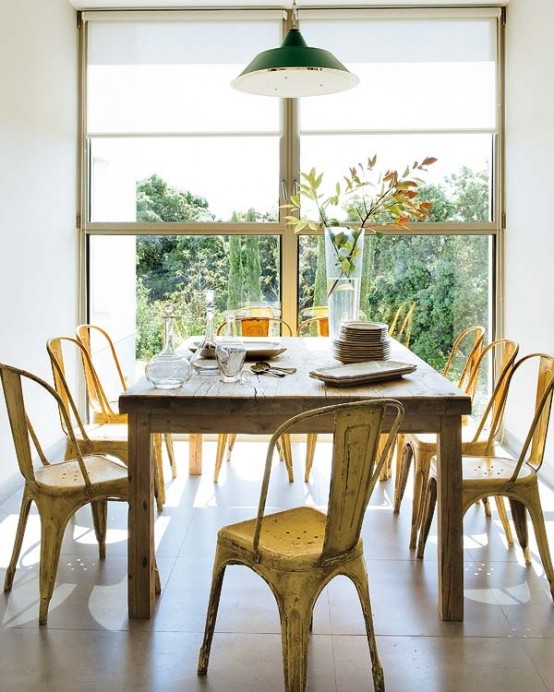 Via Pinterest